UPDATE – The iWeb SEO Video has arrived. Now iWeb users have an easy to follow, step-by-step instructional video that will teach them all the basics and more that they can do to their site to make it as search engine friendly as possible.

When iWeb was created, Apple imagined that Jenny, the 54 year old mother of 3 would finally have a place to showcase the photos from her eldest daughters wedding, and send them to uncles and aunts and cousins from around the world. They also imagined how Jack, the 60 year old photography hobbyist would be able to create an online memory for his family and friends of the Mediterranean cruise they went on in 2006.
What Apple didn't imagine, was that Sue, the 40 year old entrepreneur, would be using iWeb to display the inventory for Sue's Jewelry Shop. They also didn't imagine that Bob would be creating a website to try and gain new customers to come to his horseback riding ranch.
Because of this, SEO for iWeb has become a bit of a challenge for many users. There is no reason to fear just yet. Even though it might be more difficult, it is still quite possible. Here are five must know SEO For iWeb Tips, that anyone with an iWeb site should be well aware of.
5) Content – Wow. Doesn't this one seem easy? Yet it's not for some reason. Over and over again, I continue to see iWeb websites loaded with images, and barely any content. Let's just think about this for one moment. If Bob's site has a bunch of pictures of his horses, and very little content, how does he expect potential customers to find his site? Having pictures is a great idea. Just make sure that you include as much information in the form of text as possible. You wouldn't believe what people type into search engines. If you put some writing on your site, users will find it. Try to make sure each of your pages has at least 250 words.
4)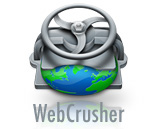 Site Speed – Google's new campaign for making the web faster really lets us know that now is the time we must begin considering the speed of our site. Soon enough, the speed of your site will play a large factor in the ranking of your website. The problem with iWeb, is that we use many images which are relatively large in size. This causes our sites to be a tad slower than we want them to be. So what can we do to fix this problem? Well, to be honest, there really isn't too much iWeb users can do themselves. If you are desperate to save some loading time, you can take off some images on your site, but then you would be compromising the integrity of your website.
Another option is to use a website optimizer such as RAGE Software's WebCrusher.  What this application does is reduce the sizes of some of the files on your site so that it does end up loading faster in users browsers.
3) XML Sitemap – If you use the standard navigation menu in iWeb, search engines may have a tough time finding all of your pages. This is because the navigation menu is created in javascript, which search engines are not extremely fond of. To work around this issue, always remember to create an XML Sitemap, and submit it to search engines. You can watch this video that demonstrates how you can create an XML Sitemap and get your site listed in Google.
2) Incoming Links – I know you've heard this one before, but it's on this list because it's extremely accurate. Search engines really enjoy it when other sites recommend a site. It can't just be any site making this recommendation, it has to be sites already considered to be of higher quality. There are many ways of getting incoming links. Way too many for me to even discuss right now. Just know that this is a serious thing when it comes to SEO and iWeb users need to be made aware of this.
1) Title Tags – iWeb makes it very difficult for iWeb users to change their title tags. Most don't even know what title tags are. Luckily, there is a free tool, called iWeb SEO Tool, that helps iWeb users to update their title tags in a very easy way. You can watch my video tutorial to learn how to use title tags effectively for search engine optimization.
There are dozens upon dozens of things that we must do to ensure that our website is seen as a reliable source of information to users so that search engines will rank us highly. These are just a few things that every iWeb user must know when they are creating their sites. In just a short time, I will be releasing a 60+ minute long video dedicated to SEO For iWeb, which will be available to purchase for your optimizing needs. Be sure to check back soon for more information.